How It Works:
In the event of total loss due to unrecovered theft, collision, fire or any insured peril, your vehicle asset may be worth less than the amount you owe on your loan at the time of total loss. In many cases this will leave you responsible for paying the difference.
Debt Cancellation Insurance, also known as "gap" insurance, covers the gap in between what your vehicle is worth at the time of a total loss and the balance remaining on your loan. The diagram below demonstrates this benefit.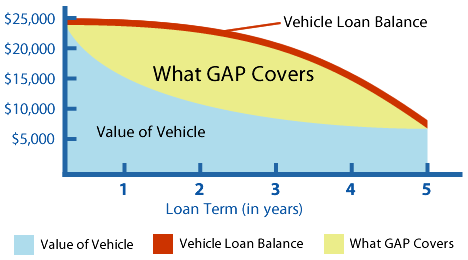 Coverage Highlights:
·      Payable in the event of a total loss.
·      Debt Cancellation Insurance, in most cases, works by paying the difference between the actual cash value and the scheduled balance owed to the lender, net of refunds.
·      Covers your primary insurance deductible up to $1,000
·      Debt Cancellation Insurance coverage remains intact if your primary automotive insurance coverage lapses.
·      Protection for vehicle with a loan of up to $100,000 at the time of purchase.
·      Up to 84 months of protection.
·      Debt Cancellation Insurance benefit can cover up to a $50,000 gap left by your primary insurance policy.
·      Coverage available for most financed new and pre-owned vehicles.
·      Protects your personal credit rating.