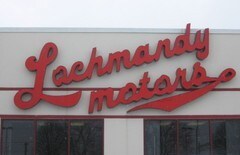 New & Used Dodge, Jeep, Chrysler, RAM, Buick & GMC Dealer in Elkhart. Lochmandy Motors is a new and used car dealership that serves South Bend, Mishawaka & Goshen.
    Lochmandy Motors is proud to have been a part of the Michiana community since 1954. Our story begins with the opening of Lochmandy Buick, by Michael Lochmandy, in 1954. We opened Lochmandy Rambler in 1957. Michael Lochmandy's son, Dennis Lochmandy, became the Operating Manager of Lochmandy Rambler in 1964. Dennis purchased this dealership in 1967. The Dodge brand was added to the Lochmandy Rambler dealership in 1968 and became known as Lochmandy Motors. GMC truck was then added to our dealership in 1978. Lochmandy Motors and Lochmandy Buick merged in 1993 to become one dealership. We offer our customers the largest variety and selection of new and used vehicles in Michiana. Lochmandy Motors' current site was built in 1995 and is home to one of the largest new car dealerships in Elkhart County. Lochmandy Motors has a staff of over 100 people and sells over 1500 vehicles a year. Lochmandy Motors is founded on the principle of a "Tradition of Caring". This is the philosophy of treating the customer as you would want to be treated. 
Lochmandy Motors Mission:  To Help You Find Your Perfect Dodge, Jeep, Chrysler, RAM, Buick or GMC vehicle, in Elkhart, Indiana
 It's not just about buying a car at Lochmandy Motors. It's about finding the right car for YOU.  This means, we take the time to get to know you.We learn your aesthetic preferences, your hobbies, and your driving habits.
This is true regardless of whether you decide to lease or buy a new Dodge, Jeep, Chrysler, RAM, Buick or GMC. Lochmandy Motors wants to make sure you never regret your decision.
  We also pay special attention to our used car customers. These customers come to Lochmandy Motors from South Bend, Mishawaka and Goshen. They enjoy our convenient location and pristine used-car selection that's really more "like-new" than it is "used".
Lochmandy Motors has the financing for your new Dodge, Jeep, Chrysler, RAM, Buick and GMC and used-car covered. Our state-of-the-art auto repair center is more than capable of meeting all or your routine maintenance and auto repair needs (e.g., oil changes, tire rotations, and alignments).
Want to work on your vehicle yourself? Lochmandy Motors fully appreciates resourceful drivers. We assist by carrying a comprehensive collection of manufacturer-certified parts (i.e., air filters, oil filters, tires, batteries, and more). What do Dodge, Jeep, Chrysler, RAM, Buick and GMC certified parts mean? Peace of mind.
To learn more about Lochmandy Motors, please feel free to contact us online or by phone. Come visit us in person at 920 N. Nappanee St Elkhart, Indiana.