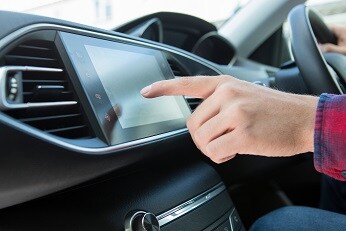 6 CAR TECH FEATURES THAT EVERYONE WILL LOVE
By: Lochmandy Auto Group
Your car isn't just a tool to get you from one place to another anymore. It's a place where you spend a lot of time - and you want that time to be enjoyable. There's a lot of emerging car technology aimed at making the time you spend in your vehicle even better. Here are some pieces of car technology that we're excited about.
Start your car with your phone, not a key
Many new vehicles can be started at the press of a button, rather than at the turn of a key, but you still need to have the key in the vehicle. Now manufacturers like GMC are making apps that you can use to lock and unlock your vehicle and, in some cases, start the vehicle - regardless of where you are in proximity to your vehicle. Expect to see this more and more. Eventually, you may be able to give up the keychain altogether!
Stay connected wherever you are
Being connected to the Internet is more and more important every day, and car manufacturers are paying attention. Most manufacturers offer in-car Wi-Fi technology that creates a mobile hotspot that you can connect to phones, tablets, computers and other accessories for an additional monthly subscription. This isn't available in every model yet, but eventually it will likely become an industry standard.
Autonomous driving is here (kind of)
We've been hearing about this one for years, and it's slowly being introduced to cars. Many vehicles are coming out with parallel parking assistance, automatic braking features and blind spot sensors that help you avoid collisions when changing lanes. Self-driving cars are at least a few years away, but these features still feel like a big improvement.
Love music? Love podcasts? Love talk radio? It all sounds good
If you're in your vehicle, chances are you're listening to something - likely your favorite radio station, podcast or music streaming app. Speaker technology is improving to better accommodate digital audio files. That means that your favorite songs and voices will sound clearer and more dynamic than ever before - and that technology will only get better in the years to come.
Seamlessly connect your vehicle to your phone or your home
Apple CarPlay and Android Auto are becoming standard in most vehicles, including many Chrysler, Dodge, Jeep, Ram, GM and Buick models. This software allows you to seamlessly connect your cell phone to your car and access your apps (like your favorite radio station or podcast player) in the dashboard or "infotainment center" of your car. Now Amazon's voice assistant Alexa is offered in some models as well, which allows you to control features in your car as well as the Alexa-connected devices in your home.
Truly cordless phones in your vehicle
Mobile phones stop being so mobile when you have to plug them in to charge - and that usually means you keep a cord or two in your vehicle to keep your device charged while you're on the go. Vehicles are now starting to include wireless charging pads in the center console. That means no more tangled cords making a mess of your center console! GM is even including rubberized pockets in some vehicles to keep your phone safe and sound while charging. It's a great feature that seems simple, but really makes a noticeable difference.
Lochmandy Motors is your place for Chrysler, Dodge, Jeep, RAM, Buick and GM vehicles with the latest and greatest technology. Check out our inventory and schedule a test drive today!